NETHATE organized a four-day interdisciplinary workshop – "contemporary issues on hate" in Berlin, Germany, Sep 12th-16th. Participants include members of NETHATE Marie Skłodowska-Curie ITN project, and NGO staff members. Prof. Zoë James from the University of Plymouth and Dr. Daniel Geschke from Institut für Demokratie und Zivilgesellschaft chaired the workshop.
The workshop has two main parts. The first part focuses on Right-wing extremism in Germany: historical development & recent developments such as online RWE media & propaganda strategies and innovative forms of right-wing extremism. The second part focuses on theoretical approaches to researching hate speech and crime. As two of the main objectives, this workshop can complement the presentation and discussion of critical approaches to hate speech online and offline. This workshop can also facilitate the communication between early-stage researchers in the NETHATE project with practitioners in NGOs, and activists, to better understand and use their knowledge to contribute to solving the real-life problem.
Guest speakers in this workshop include Barbara Perry from the Ontario Tech University; Kamran Khan from the University of Copenhagen; Jennifer Kamau from the International Women* Space, Berlin; Miriam Juan Torres from the Othering & Belonging Institute at UC Berkeley; Simone Rafael from the Amadeu Antonio Stiftung; Zoë James, Katie McBride, Chris Pac-Soo from the University of Plymouth; Axel Salheiser, Christoph Richter, Viktoria Kamuf & Maik Fielitz from the Institut für Demokratie und Zivilgesellschaft. 
During the workshop, participants engaged with experts, academics, practitioners, activists, and our early-stage researchers in NETHATE on contemporary issues on hate, including far-right, racism, critical perspectives on hate, and more!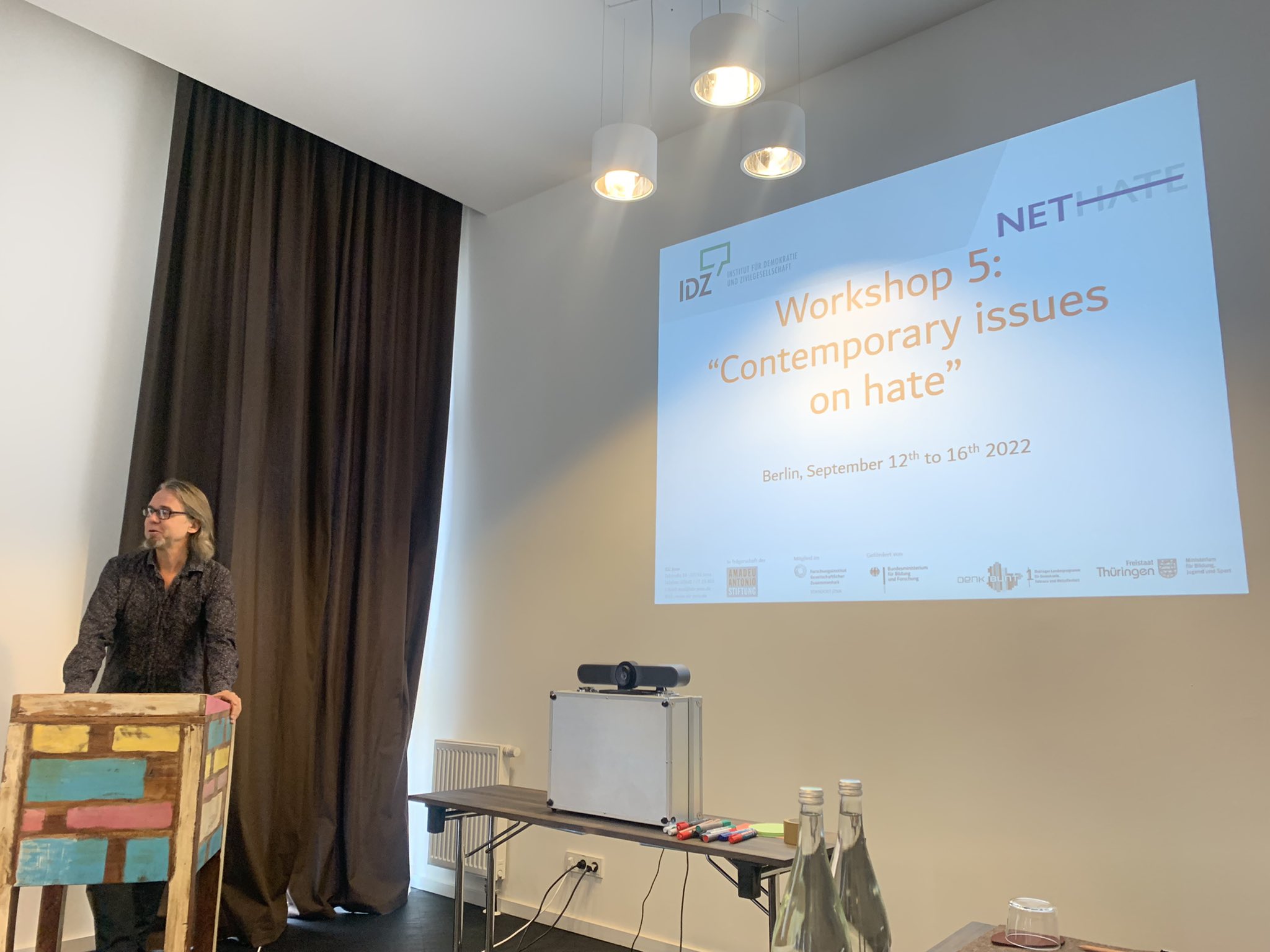 To make sure everyone can share their knowledge, experiences, opinions, and feelings in a safe and non-judgment environment; to make sure the workshop can, in the end, brings out constructive advice for all participants; to make sure everyone can learn and freely exchange ideas; to make sure people from different fields and backgrounds can understand each other; at the very beginning of the four-day workshop, participants together discussed and defined a set of standard rules for how to communicate with each other.
Workshop Agenda
WHEN
WHO
WHAT
INTERACTION
DAY1
09:30- 10:30
Daniel Geschke (IDCS Jena)
An overall introduction of seminar content
What do you want to get out of it? What are you interested in? How does it relate to your research project?
11:00- 12:30
Axel Salheiser (IDCS Jena)
Overview of the development of the far right in Germany
13:30- 15:00
Viktoria Kamuf (IDCS Jena)
Othered places: On the relationship between racism and space in the case of the 2020 far-right attack in Hanau, Germany
15:30- 17:00

Dr Kamran Khan
(University of Copenhagen)
Raciolinguistic perspectives on 'raceless' societies
DAY2
09:00- 10:30
Maik Fielitz (IDCS Jena)
Right-Wing Extremism Online: Media and propaganda strategies of the far right in Germany
11:00- 13:00
Christoph Richter (IDCS Jena)
The far right in the German parliament: reasons for the current successes of the AfD ("Alternative für Deutschland" "alternative for Germany")
14:00- 15:00
Miriam Juan Torres (Belonging Institute)
15:00- 16:00
Daniel Geschke (IDCS Jena)
Interactive integration and summary of days 1 and 2
DAY3
09:00- 10:30
Zoë James, Katie McBride (University of Plymouth)
Lecture: Introduction to critical theorizing
An introductory lecture presenting critical social science theories that have
been used to explain hateful behaviors in the 21st century
This session functions as a traditional lecture that will set out core areas of critical theorizing: identifying foundational knowledge on how power functions in social life that impacts and informs hate offending and victimization via systems and structures of governance and global social, political, and economic norms. The session will focus on aspects of bias-motivated behaviors that are acknowledged within the hate studies canon, specifically race, sexuality, class, gender identity, religion or belief, disability, and gender, however, it will incorporate consideration of the boundaries of hate victimization and intersectionality.
11:00- 12:30
Chris Pac-Soo (University of Plymouth)
Seminar: Critical Perspectives on Race and Racism
Seminar with guest speaker for approximately 45 minutes, followed by 45 minutes discussion. Students will consider the speaker presentation and the reading they have completed during discussion that will inform their work in Day 2 of the workshop.
Dr. Chris Pac-Soo is an expert in teaching and researching critical race perspectives.
This session focuses on critical perspectives on race and racism. The session considers how race hate has manifested, been explained, and challenged as part of critical theory discourse. The session engages with foundational issues of how race, socialization, and racism are understood and inform everyday experiences. The session acknowledges the need for decolonial criticality that engages with Critical Race Theory and intersectionality as mechanisms to challenge white privilege.
13:30- 15:00
Barbara Perry (Ontario Tech University)
Professor Perry is a guest speaker at this workshop. As the leading critical scholar in hate studies, who also sits on the External Advisory Board of NETHATE, Professor Perry provides an informative talk on the parameters of hate theorization and, in doing so, makes direct connections to the training on the far right.
15:30-17:00
Jennifer Kamau
(International Women* Space, Berlin)
Activism and Documentation as Tools of Resistance
Film Showing as part of the session: "Kampfer*innen" to inform discussion on Visibility and Resistance.
DAY4
Full-day
Katie McBride, Zoë James (University of Plymouth)
Students use this session to consider how their research interests may be impacted by critical theories in studying hate. This session will act as a collaborative space wherein some time will be given to individual contemplation. Still, all ESRs are grouped in free will to maximize shared learning and understanding of critical concepts. Engaging in a reflective, open, and collegiate manner is the key to the session's success. ESRs are supported in the session by a guided training plan to orient their thinking and collaborative approach to consider their projects.
On the first day, we started the workshop with @dauerstoerung presenting on #RightWing#Extremism in #Germany @IDZ_Jena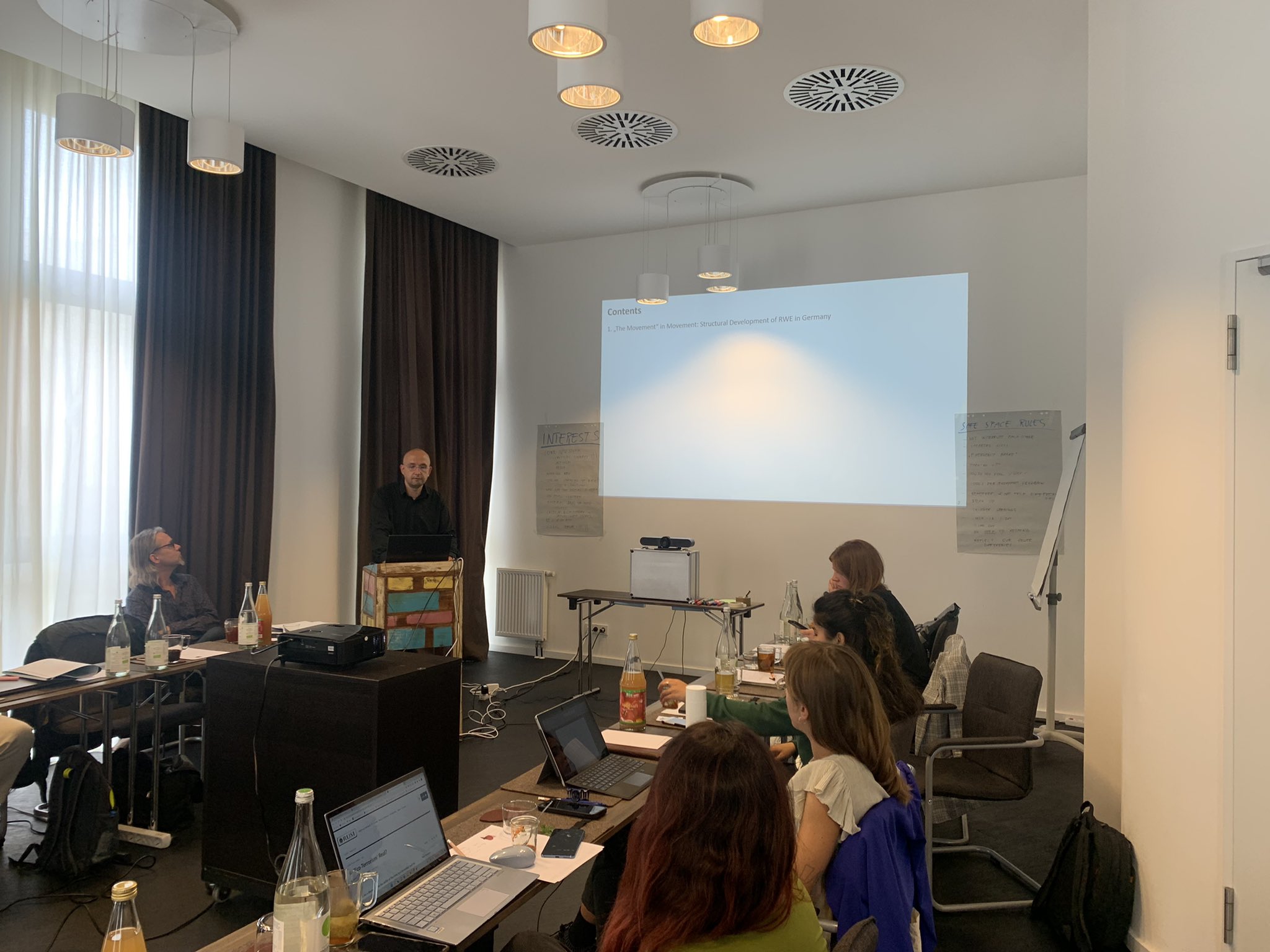 Next, we heard from @vikikamuf about the 2020 #FarRight #Attack in #Hanau#Germany on the relationship between #racism and #space" @IDZ_Jena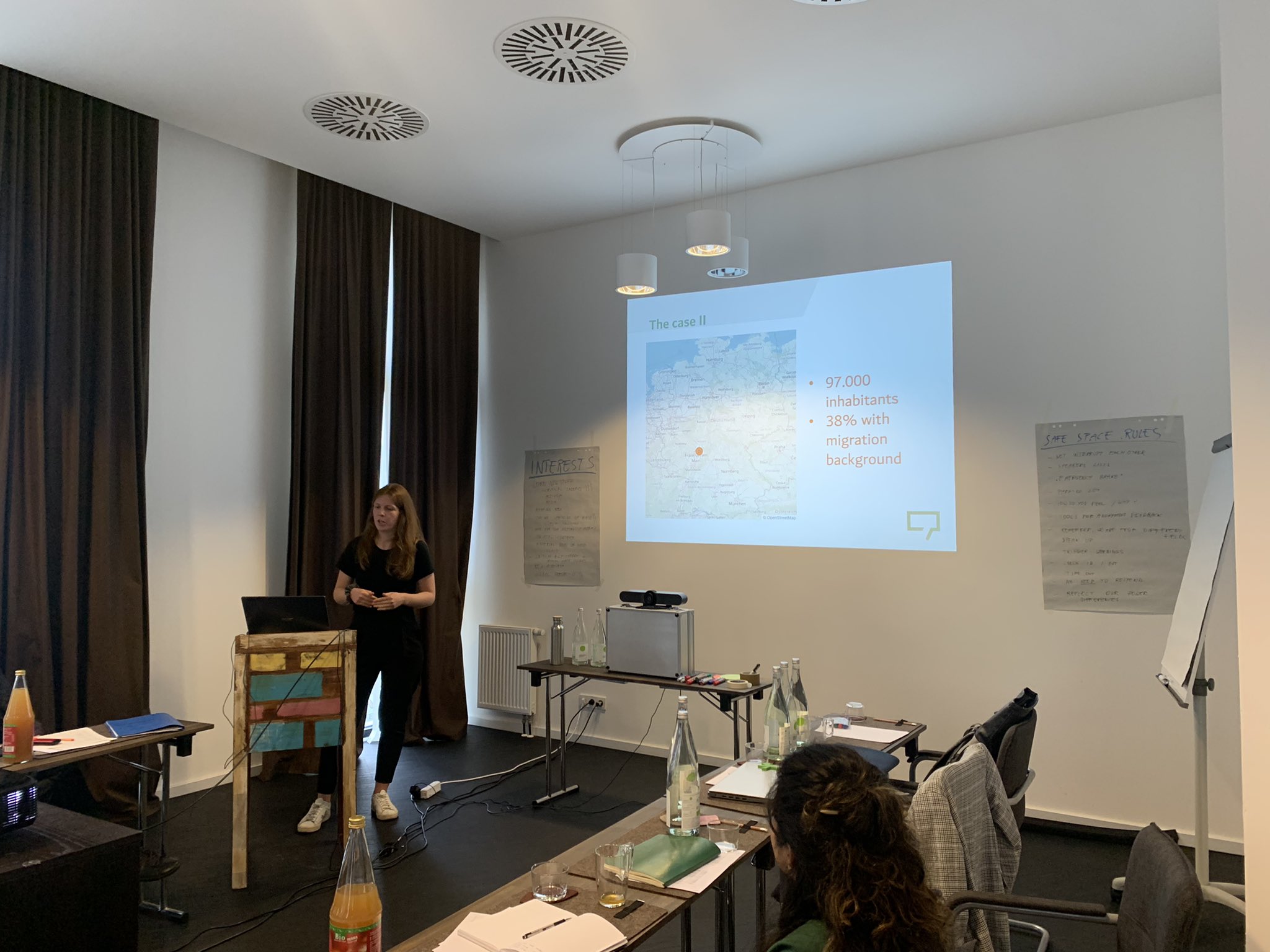 Ending a great first day of the workshop, @SecurityLing discussed #Raciolinguistic perspectives on '#raceless' societies @MSCActions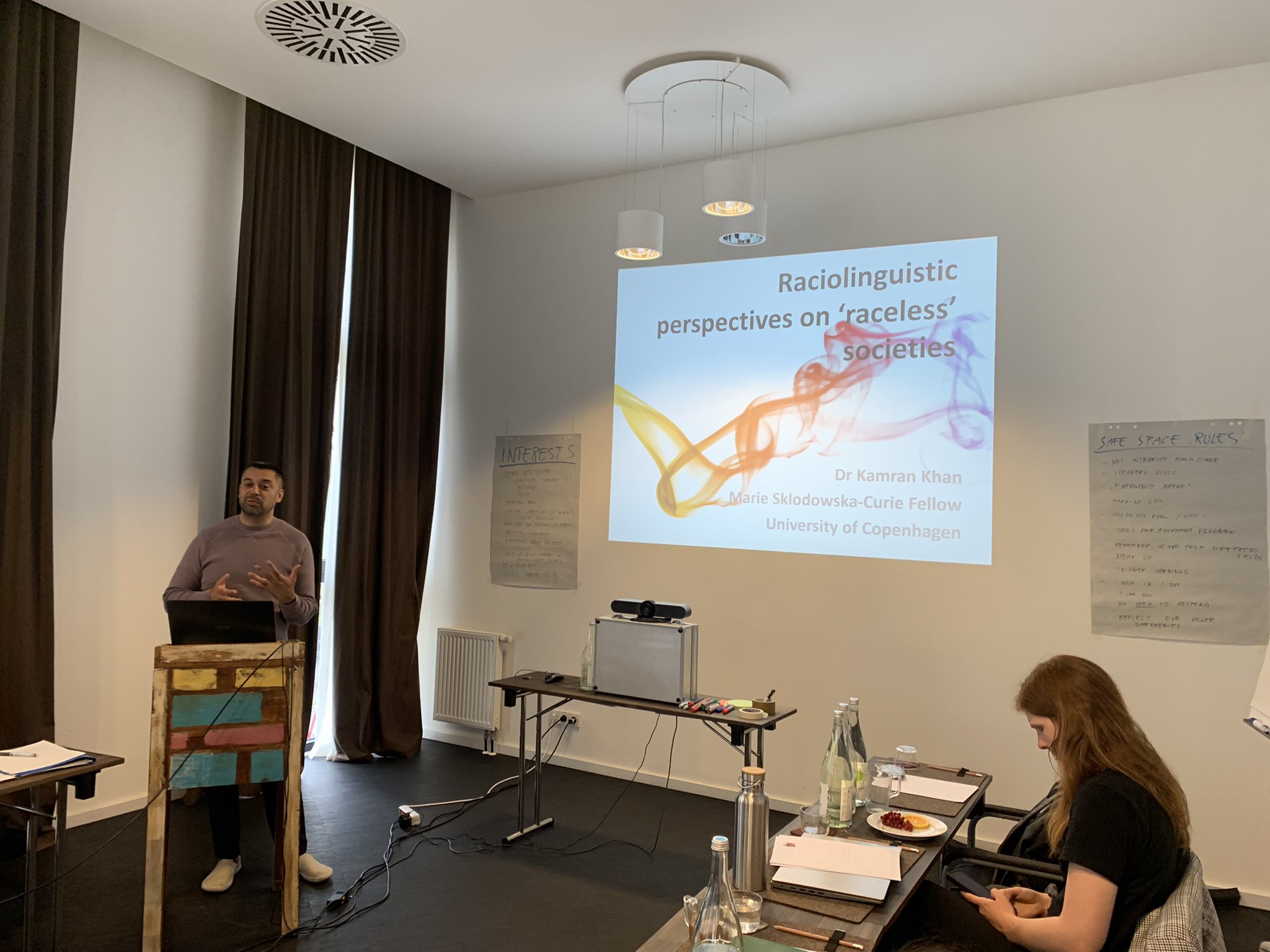 On day two, we started to explore the #hate on social media and other online environments with @maik_fielitz presenting "#RightWing#Extremism#Online: #Media and #propaganda strategies of the far right in #Germany"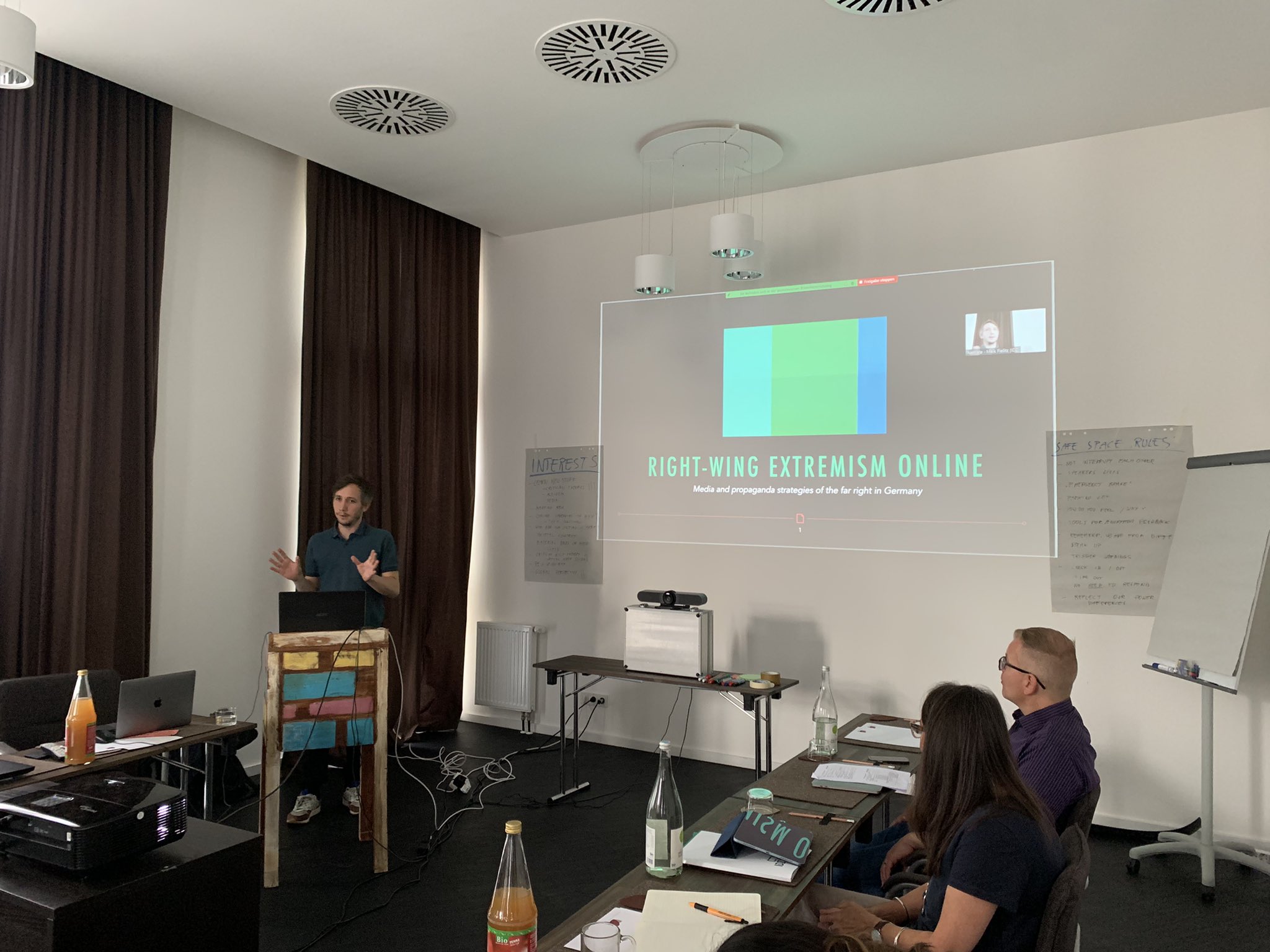 Online, we heard @miriamjtg about her work at the @oandbinstitute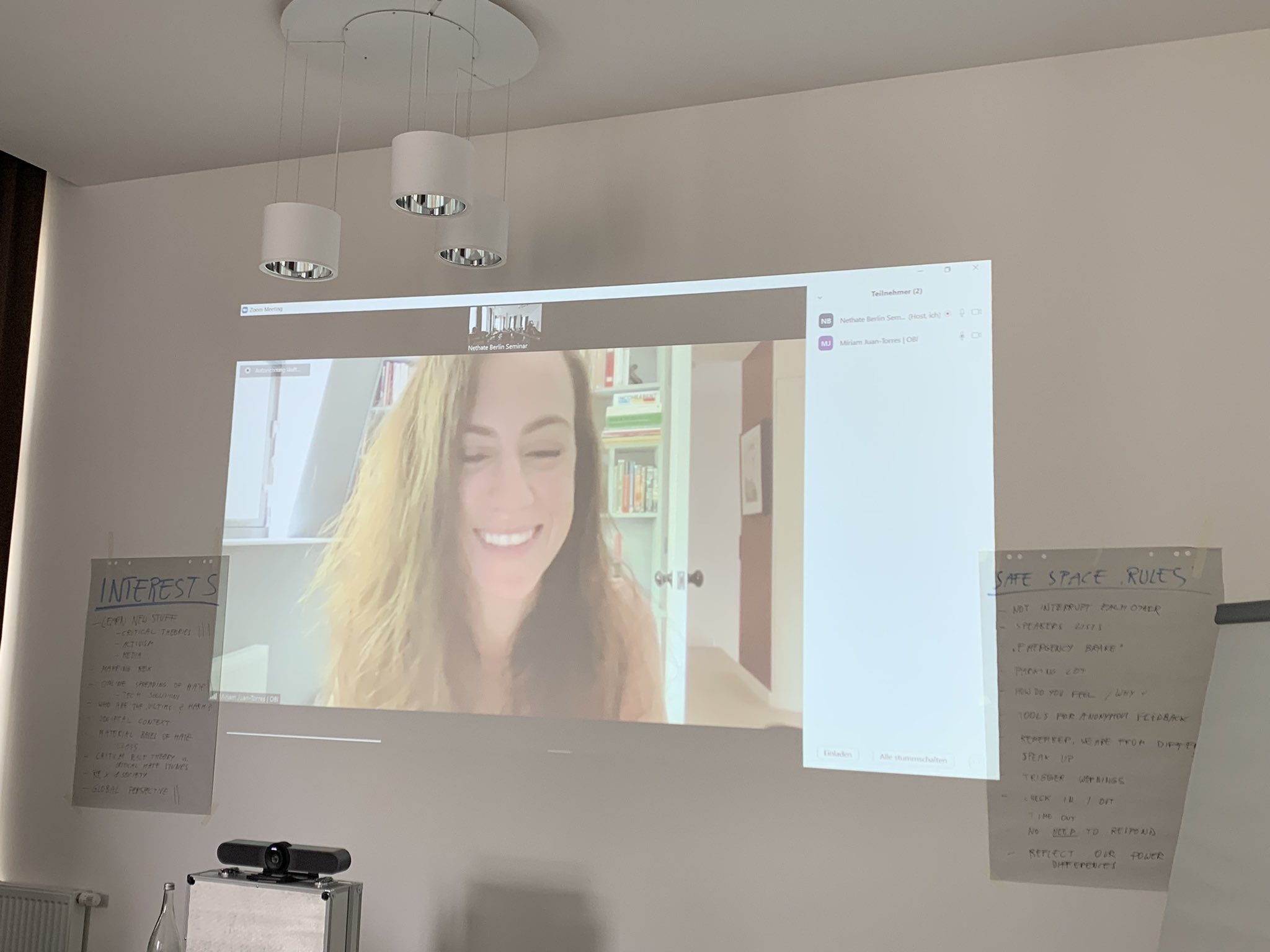 At the end of day two, we heard @drachenschafe discussing her work at @AmadeuAntonio with a particular focus on "#Fighting the #farright, #antisemitism and #racism #offline and #online".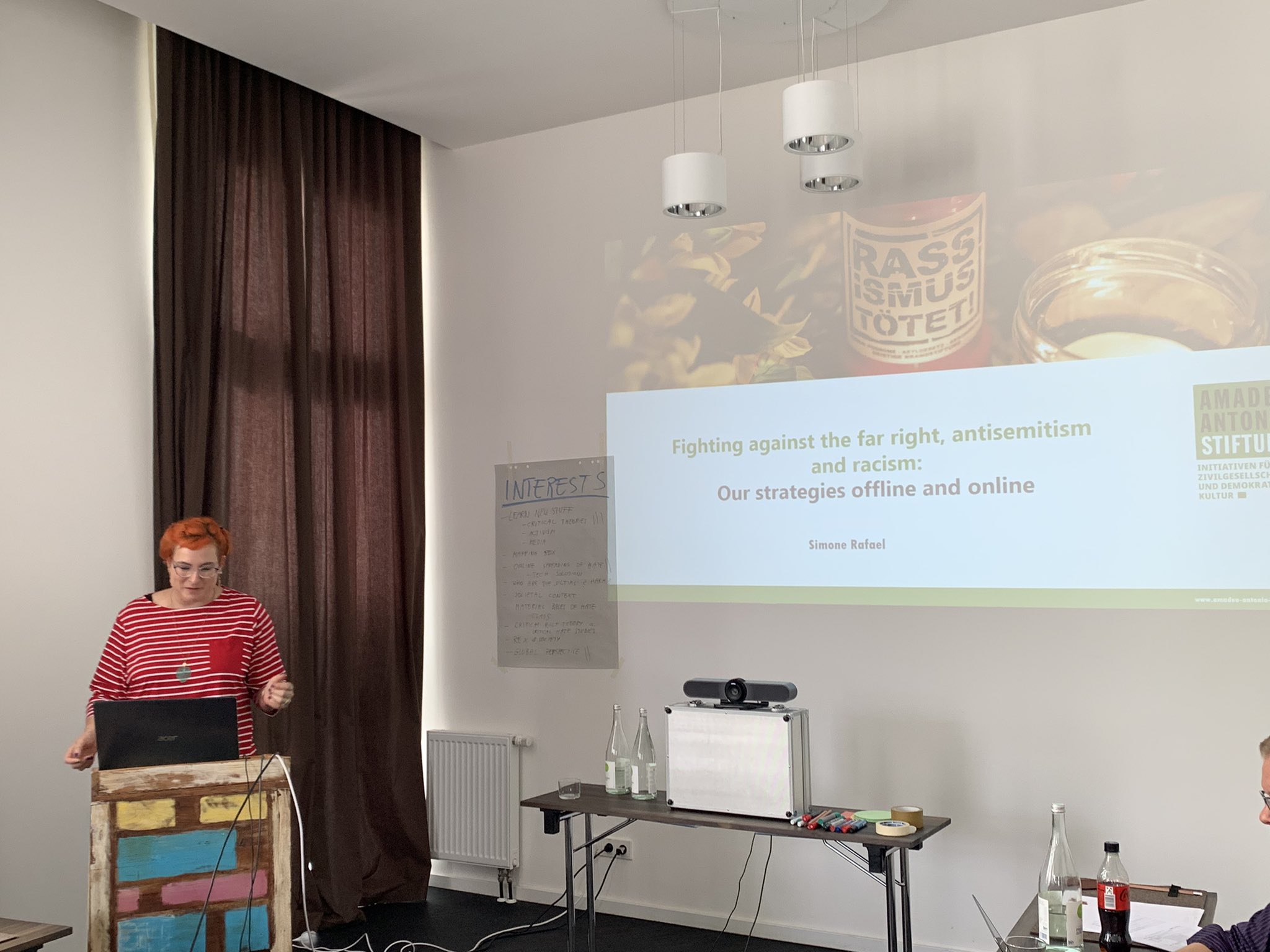 On the third day, we started the second part of our 'Workshop on Contemporary issues on hate' with a specific focus on "#CriticalStudies on #Hate". In the morning, @DrZoeJames taught the "Introduction to #CriticalTheorising". Continuing with @DrChrisPacsoo presenting on "#CriticalPerspectives on #Race and #Racism", followed by Dr. Barbara Perry talking on "The Continuum of #Hate" @CHBEOntarioTech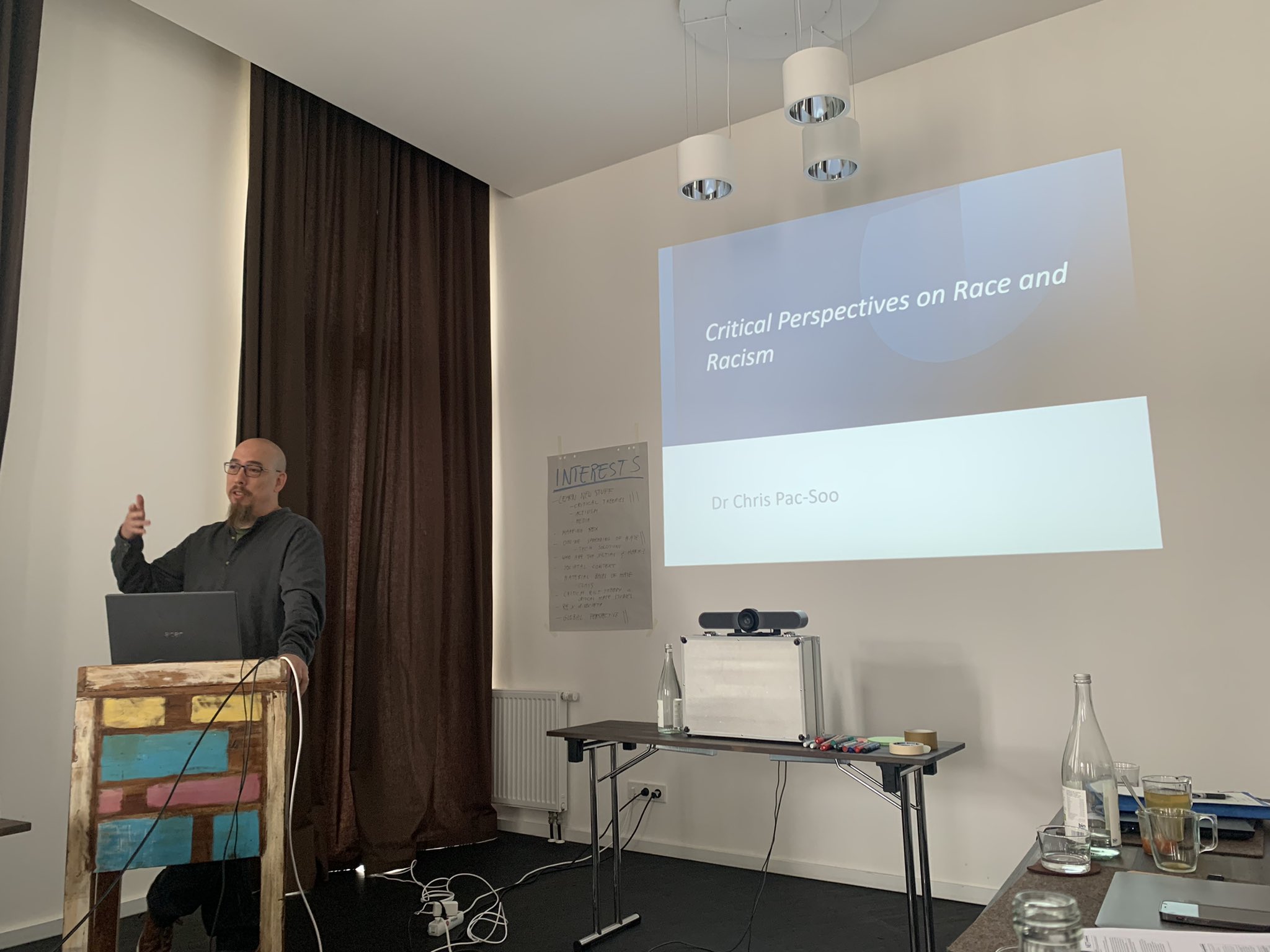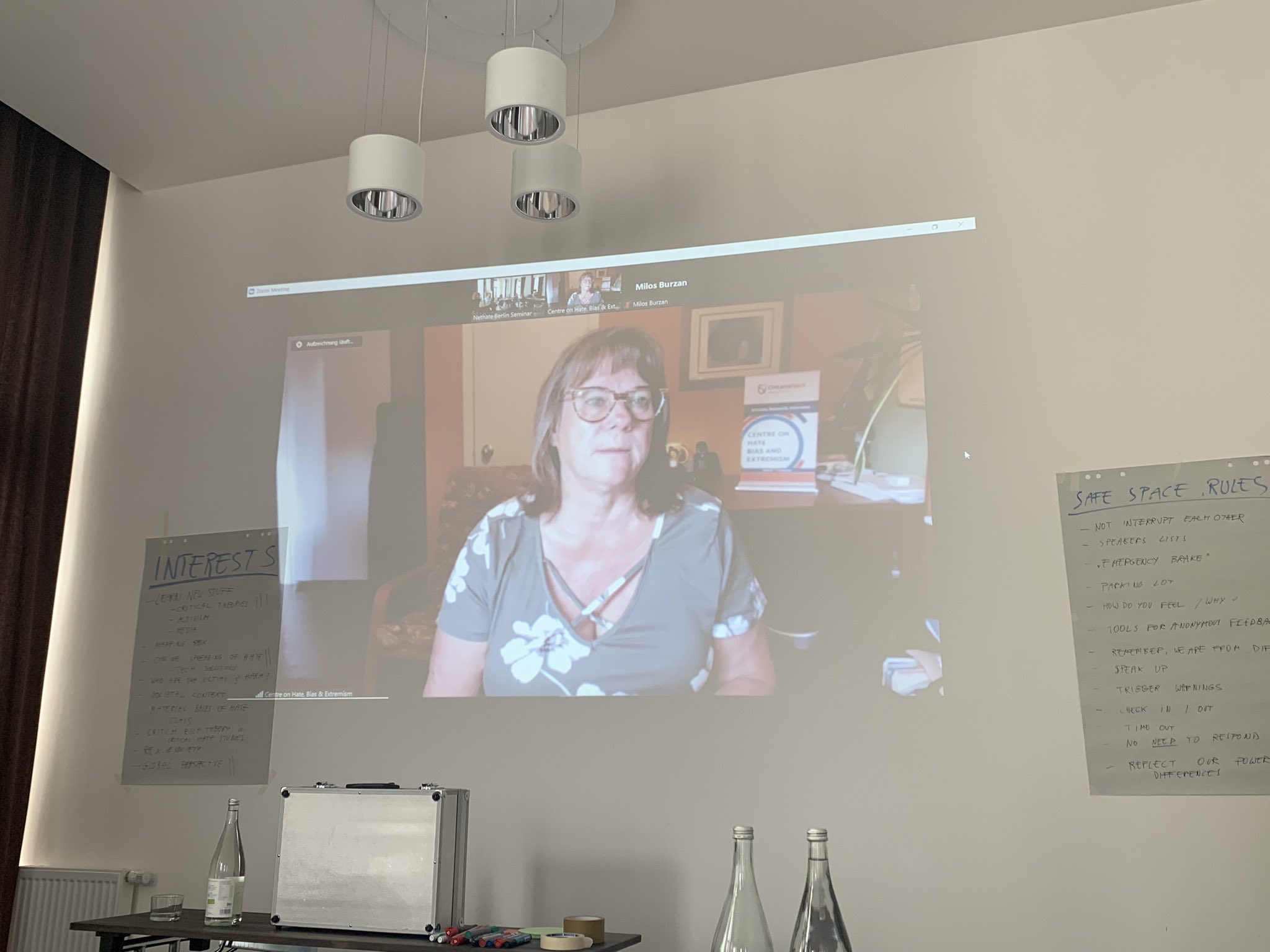 The third day ended incredibly where we were able to hear from Jennifer Kamau, from the International Women* Space, about their work. The @iwspace (https://iwspace.de/)is a #feminist, #antiracist political group in #Berlin of migrant, refugee, and non-refugee women. They fight patriarchy, and document violence, racism, sexism, and other forms of discrimination. They also produce resources, such as books (which can be found on their website) that document the experiences of migrant and refugee women in Germany. Such resources are incredibly useful given the continuous erasure of certain stories and the lack of representation within mainstream media."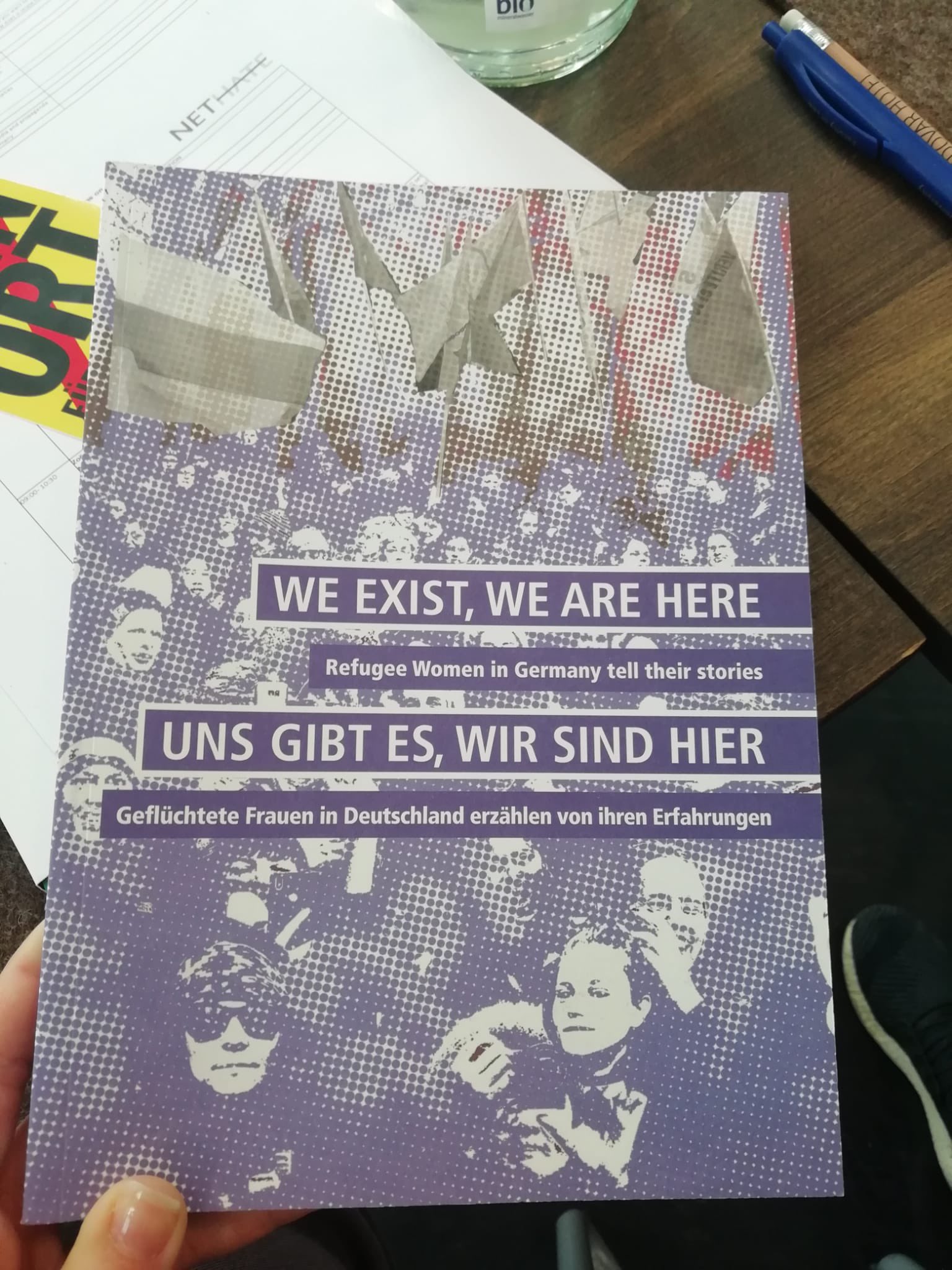 Please follow our Twitter account (@NETHATE_ITN), Linkedin account (https://www.linkedin.com/company/marie-sk%C5%82odowska-curie-itn-nethate/), and YouTube channels (https://www.youtube.com/channel/UCNea025Jg-Q-6AyKk3Wf1Cg) if you are interested in the following workshops.